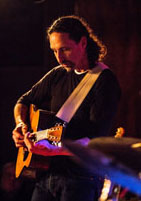 Mark Gordon:

is originally from a suburb of New York City. While in NY he was Associate Editor for the magazine "Guitar for the Practicing Musician" for a couple of years, booked and was in charge of sound at The Turning Point, played solo and in an acoustic duo and trio, did live sound with "Edit Sight and Sound" and taught a little guitar.


In 1993, Mark moved to St. Louis when Mark's wife, Ellen, got a job teaching at St. Louis University. Mark did some sound work at Ciceros and the High-Point when he first moved to St. Louis, but primarily played music, working mostly solo but also playing in acoustic duos with Farrell Webber, Russ Anderson, Mark Moebeck, Corey Nelson and George Whitlow.

Mark has performed at colleges, schools, parks, wineries and numerous clubs. He has opened for: Jorma Kaukonen (Jefferson Airplane & Hot Tuna), The New Riders of the Purple Sage, Levon Helm (The Band), David Bromberg, Maria Mauldauer, John Stewart (The Kingston Trio), Commander Cody, Tom Paxton and The Guess Who.

Mark currently performs solo, in the duo Gordon Whitlow, in the acoustic trio Loud Mouth Soup with Paul Schaffrin and George Whitlow and since 2015 in the acoustic trio "Acoustic Accident" with George Whitlow and Corey Nelson.