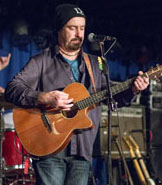 Paul Schaffrin:

moved to San Francisco California in 1986 and between 1986 and 1988 played in and recorded with a variety of projects. Paul was a member of the Northern California song writing association and when not building Windpower windmills, he was working/performing in music. He even worked evenings at a theater restaurant as Robin Hood the guitar playing/singer waiter. Paul also composed and recorded the intro theme to a local martial arts program in Bay Area.


Paul returned to St. Louis and in 1992-93 performed as lead guitarist/vocalist in a cover band called "Lost & Found" playing local St. Louis venues. From 94-97 wrote and recorded with his brother Patrick Schaffrin (since passed) drums and his friend Bryan "Big Mac" McDaniel (bass).

In 1997 Paul formed the rock Band Loud Mouth Soup with Kevin Watson (guitars/vocals).

In 2003 Paul and Kevin Watson reduced the band to unplugged status only and performed with Shaun Andree and eventually permanently George Whitlow on bass.

In 2005 Paul joined Open Sunday as lead guitarist/vocalist/songwriter, replacing Steve whitlow (George's brother).

In 2012, Paul was asked to replace Matt DePew (upon his departure) as lead guitarist for the local hard rock original band Divine Sorrow.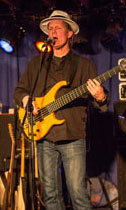 George Whitlow:

"...started off as a Trombone player. By the time I had reached high school, my teacher Bob Waggoner, who was a bass player, recognized that I could play low notes and stay well in tune, and suggested the possibility of me playing the bass trombone. The road less traveled looked good and I took it, which led me to playing and recording with professional musicians at 17 years old.


That summer I took a job at Six Flags over Mid-America but ended up hanging out at the Palace Theater with my teacher Mike Bland and learned a very important musical lesson: musicians really don't have to work too hard! They played 30 minutes on and 30 off and that was cool with me! About this same time I was selected to play in the Meremec Community College "kicks" band composed mostly of pro musicians and conducted by my old teacher Bob Waggoner.

One night while in college, at a club, I was moved by the sound coming from across the room. It was a live band called The Kansas City Street Band: a five piece group consisting of guitar, drums, bass, trumpet, and saxophone. With liquid courage in hand I walked up and asked if they needed a trombone player, and the next night I was in the band!

A year later I bought my first real electric bass and amp and started taking private lessons with Duke Michalak, one of the best local teachers around. In the newspaper I found an ad that read: "Sundance, a 9-piece band with brass needs bass player for weddings and parties". I responded, they hired me and I played the mostaccioli circuit for the next two years.

While in Sundance I scoured The Riverfront Times searching for a way to make a living in the music biz. A friend called and told me he was auditioning for Louis Michael, a local piano player/vocalist from the band Nickels who was forming his own band. This was my chance to go all the way pro and make my living in music. I got the gig with Louis Michaels and had about four gigs a week and made just enough to scrape by. After two more years I found the band Cagney, a much more prominent band in the local club scene in the late 80's. We were a diverse cover band and played 4 to 7 nights a week so at this point I was actually and to my and the bands surprise I found that my range was best suited for the songs that nobody else was capable of singing. So I ended up singing everything from Guns and Roses to Bobby Brown. However it was a real musical milestone for me when I first stepped up to the mic to sing a Rush song. Geddy Lee had been a huge influence in my musical background and now I was actually singing Geddy as well!

Around the same time I was persuaded and recruited into a teaching position at Mozingo Music.

After three years of practically non-stop gigging and teaching I was becoming tired of just playing with no direction or goals. I took a break from music.

After a time I got the itch to play again, this time in an original project with Tom Bryant formerly of the band Ocean and now currently singing with Head East. After about a year that band morphed into a 3-piece power trio called Circle of Fear, an all original project.

This got me thinking about my favorite power trio, Rush so in 1996 along with my brother Steve we created a Rush tribute band called Thunderhead. I left Thunderhead but Thunderhead is still playing actively as a group.

St. Louis has a ton of really talented musicians and through some of my musical connections I ended up meeting Kevin Watson and playing bass in Loud Mouth Soup after Shaun Andree's day job took him away from the band.

Then funny how life works, when Shaun had to leave The Real Me to move to Connecticut, Kevin asked me to fill in for him in The Real Me so I followed Shaun for the second time and joined The Real Me." Unfortunately, The Real Me has played its last shows.

Besides Loud Mouth Soup, George is also currently playing in Slightly Jaded (also https://www.facebook.com/groups/slightlyjaded/) with Corey Nelson, the Scorpion Tribute band Savage Amusement, and is a substitue Keyboard player for the band Contagious.

George teaches privately and is taking students in bass, guitar and keyboards.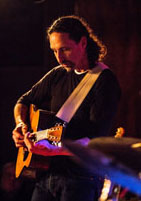 Mark Gordon:

is originally from a suburb of New York City. While in NY he was Associate Editor for the magazine "Guitar for the Practicing Musician" for a couple of years, booked and was in charge of sound at The Turning Point, played solo and in an acoustic duo and trio, did live sound with "Edit Sight and Sound" and taught a little guitar.


In 1993, Mark moved to St. Louis when Mark's wife, Ellen, got a job teaching at St. Louis University. Mark did some sound work at Ciceros and the High-Point when he first moved to St. Louis, but primarily played music, working mostly solo but also playing in acoustic duos with Farrell Webber, Russ Anderson, Mark Moebeck, Corey Nelson and George Whitlow.

Mark has performed at colleges, schools, parks, wineries and numerous clubs. He has opened for: Jorma Kaukonen (Jefferson Airplane & Hot Tuna), The New Riders of the Purple Sage, Levon Helm (The Band), David Bromberg, Maria Mauldauer, John Stewart (The Kingston Trio), Commander Cody, Tom Paxton and The Guess Who.

Mark has been playing in Loud Mouth Soup with Paul and George since 2012.